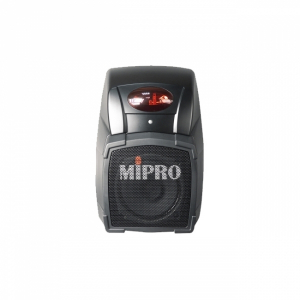 Mipro Wireless Classroom PA System
Mipro is the MA101ACT classroom PA which has been designed to take away the vocal strain associated with long hours of teaching or lecturing.
Code:
MA101ACT
Brand:
Mipro
The day-to-day stress placed on a teachers voice has come increasingly under the medical and legal spotlight. This convenient classroom PA system has been designed to take away the vocal strain associated with long hours teaching or lecturing.

A classroom full of enthusiastic pupils can place an inordinate amount of stress on your vocal chords leading to possible long-term damage. This exciting and innovative PA system can be installed simply and easily. It is designed to allow each teacher to carry their own personal wireless microphone from classroom to classroom. Once the wireless amplified monitor speakers have been installed in each classroom, the teacher can then activate each individual system via their own microphone.

It allows them to remotely turn the system on and off as well as to adjust the volume. An external audio source such as a CD, Cassette or MiniDisc player can also be connected to the remote microphone and heard through the monitor speaker system.
100 built-in UHF frequencies allow different channels to be set up in every classroom for interference free operation.
Each wireless amplified speaker delivers 30 watts RMS output and has a detachable switching power supply.
Automatic Channel Targeting system for automatic locking of the signal.
Easy speaker mounting to wall or ceiling.
Built-in antenna for both transmitter and receiver.
Swappable receiver module design allows for simple frequency band change.
Transmitter powered via built-in rechargeable batteries, saving considerable expense. 24 hours usage per charge.
Line input for external audio connection (3.5mm).
Complete package includes 1 x microphone, 1 x amplifier/ speaker, 1 x battery charger.
Ideal for multiple classrooms, lecture halls and similar environments.