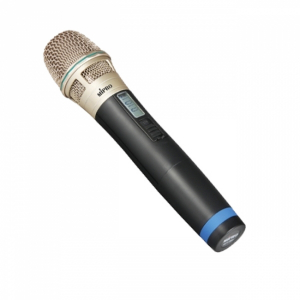 ACT32H5 Handheld wireless Mic
Mipro ACT32H5 hand held wireless can be used with all the Mipro portabl PA systems.
Extremely rugged, ergonomically designed housing.

The unique flat top multi-layered steel grille protects the capsule against impact, rolling, pop noise and ensures sound clarity.

The unique flat top multi-layered steel grille for condenser capsules and round top for dynamic capsules protect the capsule against impact, rolling and pop noise. The upper grille is able to be detached easily for cleaning and hygiene practices.

Premium true condenser microphone capsule provides high fidelity, wide frequency response, high dynamic range, rapid transient response, clarity and accurate sound reproduction.

Proprietary lockable silent on/off switch to avoid accidental power-off during performance.

Impact-resistant battery compartment holds 2 AA batteries.

Interchangeable colored rings for microphone channel identification on stage.

LCD displays group, channel, battery level & error message codes.

Low spurious PLL-synthesized technology enhances frequency stability and reliability. Patented 'Built-in'antenna design.

World's first ACT function provides precise and rapid frequency sync to the transmitters.
Related Products