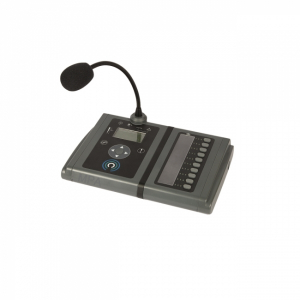 ASL MPX10-GO-AN PAGING MIC
The MPS range of paging microphones provide live, store-and-forward, and recorded message broadcast into user selected zones. If required, they can also be configured to provide EN54-compliant emergency functions and all EN54 mandatory indicators and controls.
The base MPS01 unit consists of a sloping desk console with a flexible gooseneck paging microphone, graphic LCD display, and silent operation 'Touch to Talk' touch pad PTT button.
Up to five MPX10 button modules can be added to extend the microphone to up to 50 buttons.
EN54 Certification
As part of ASL's EN54 certified Voice Alarm solution, the MPS can be used as a day-to-day Public Address microphone or as a fully featured emergency microphone at the turn of a key.
Multiple Interfaces
Although the MPS supports our standard analogue & RS485 interface, the MPS can also be used over IP. Simply power the unit using a local PoE supply and connect to the same data network as the VIPEDIA-12 to enable IP connection.
Local Music Input
A local 3.5mm socket on the MPS makes it simple to connect a local music source, such as mobile phone or iPod, into the public address system. Control zone volumes and turn the music on and off – all from the MPS unit.
Store-and-Forward
A simple configuration option allows the MPS to be used in 'store & forward' mode where the user's speech is recorded and played back on release of the microphone's talk button. This prevents feedback in areas where the MPS needs to be used in close proximity to loudspeakers,
Dual Analogue Outputs
For systems requiring high levels of redundancy, the MPS has twin analogue outputs driven from separate internal amplifiers; allowing it to be connected directly to two separate routers in an A/B configuration.
Zone Listen-In
Operators can listen in to announcements being made to any zone on the system, simply by selecting that zone to listen-in from the loudspeaker inside the MPS base. This is particularly useful where certain zones receive many announcements from different sources, such as on train platforms, and allows the user to be constantly aware of announcements being made around the site.
Related Products