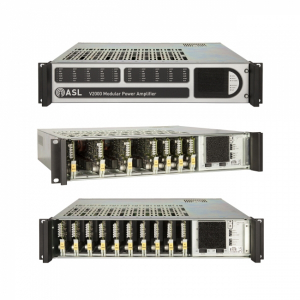 ASL V2000 Amplifier
V2000 Voice Alarm Amplifier Mainframe works with the VIPEDIA-12, D-Series amplifiers EN54-16 Certified
Code:
V2000
Brand:
ASL
Industry:
Defence, Maritime, Mining, Oil & Gas
Government:
Defence
V2000 Amplifier Mainframe
The V2000 Voice Alarm Amplifier Mainframe works with the VIPEDIA-12, D-Series amplifiers and the LSZDC interface card to provide amplification and monitoring for Public Address, Voice Alarm and Commercial Audio loudspeaker systems. The mainframe provides the housing, control, and power supplies for up to ten ASL D-Series power amplifier modules in a 2U enclosure.
An integrated EN54- 4 compliant battery charger interfaces to ASL's BPC65-BAT battery supply through the BDIST-V2000, and provides enough current to charge the battery system for a fully loaded 2000W system, including one VIPEDIA- 12.
Reduced Complexity
Integrated EN54-16 certified Voice Alarm amplification and EN54-4 certified battery charging reduces build time, and simplifies delivery of compliant Voice Alarm systems.
Eco Friendly
By combining high efficiency during broadcasts with ultra-low power consumption during quiet periods, the V2000 greatly reduces the costs and CO2 emissions associated with powering the Voice Alarm system cooling in the rooms in which they are installed.
Configurable Power
By setting the maximum power of each amplifier module, intelligent configuration enables the most efficient use of each frame's 2000W power supply.
Related Products