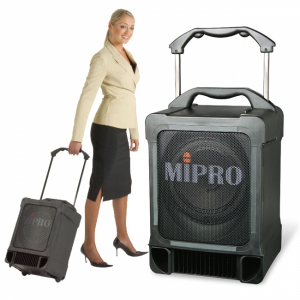 MA707PA Mipro Portable with cord microphone
MA707PA 100 watt Battery-operated PA system is a simple cost effective public address system with 1 hand held cord microphone as the basic starting point.
Code:
MA707PA
Brand:
Mipro
Recommended:
Funerals, Celebrants, Meetings, Presentaions, Promotions, Fitness
Government:
Schools, Defence, Local Government, Universities, Community Centres, TAFE
MA707PA 100 watt Battery-operated PA system is a simple cost effective public address system with 1 hand held cord microphone as the basic starting point.
At any stage you can add up to 2 wireless microphones to the MA707PA system, you can also add CD/USB/BLUETOOTH player.
Ask for a free quote on any additional wireless combination we have 40+ years of experience in portable pa systems, call or email us today.
You have three wireless microphones to choose from.
Hand Held wireless
Belt-pack wireless with head-mic (Madonna kind)
Belt-pack wireless with lapel microphone
The MA707PA lets you have up to 1 cord and 2 wireless mics working on this system.
This rugged one-piece portable PA system is powered by a full-range 8 inch loudspeaker, the MA707PA has retractable handle robust wheels and built-in rechargeable batteries, this system is extensively used in Australian Primary and High Schools, Church Groups, and Wedding Celebrants it's just an incredible great all-rounder and should be used wherever good portable sound is required.
Accessorys that will complement and enhance the Mipro audio quality and reliability
Speaker stand...this will give the portable system good elevation
Speaker protective cover
Speaker extension
Microphone Stand
Option MP80 MIPRO Desktop Charging Station: For ACT32HC and ACT32TC. Features two charging slots, each of which can accept the ACT32HC hand held, ACT32TC belt-pack or MB-5 battery. Charge any two transmitters or batteries simultaneously.
Related Products