Members Login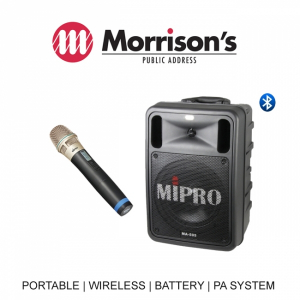 Mipro MA505PAM5-1 Pack ACT32H5 Hand Held Wireless Microphone
This MIPRO MA505PAM5-1 Portable 100 watt PA Pack with Bluetooth audio player. 8" woofer and 1" HF driver. Supplied with ACT32H5 Hand held wireless microphone.
PA Solutions:
MIPRO PA PACK'S
Advanced Details
MA505PAM5-1 Portable PA Pack include MRM70B5 receiver and ACT32H5 Hand-Held wireless microphone & Bluetooth.
Flexible on price, not on service or quality
The MA505 rugged one-piece 100 watts portable PA system powered by one 8" woofer and 1" HF driver, the MA505PAM5-1 Pack comes with an integrated rechargeable lithium battery. XLR Mic Input, 6.35mm Mic Input, 3.5mm Line Input, 3.5mm Line Output. Also includes one-button alarm/siren. Can be used on a table or speaker stand.
The Mipro can be optioned with up to two wireless modules (any combination of MRM70B receiver or MT91 interlink transmitter), or DPM3 USB/SD Player/Recorder, or CDM2 CD/USB Player Modules. 8.5kg just ask our sales team to put a free quoit together for you.
Extensively used Australian wide be Primary and High Schools, Church Groups, and Wedding Celebrants... it's just an incredible great all-rounder and should be used wherever good portable sound is required.
Accessorys:
MS70 PA speaker stand this will give you great elevation
SC50 dust and protective cover for the MA505
MA505EXP Loudspeaker extension
If you're confused with the Mipro model or options to choose from, don't be a simple phone call or email will fix that. Helping you selecting the correct system and teaching you how to use the system is all part of our service.
Please note that if you click on the 'Inquire link' and let me know what your needs are and in what way you want to use the system i.e. number of people you need to cover for sound, are you inside or outside, would you prefer cord or wireless microphones and if you prefer to have a hands free microphone i.e. Madonna kind mic.
Related Products