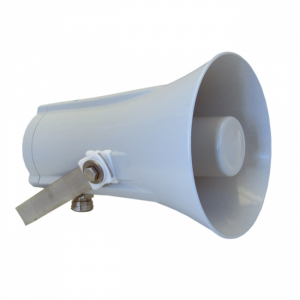 HS15-ST shockproof Horn
HS15-ST are typically used in the Navy industrial and commercial locations providing extremely high intelligibility and efficiency. This 15W aluminum horn speaker is specially designed to withstand external sound shocks of up to 175 dB.
Code:
HS15-ST
Brand:
DNH
Industry:
Defence, Maritime, Mining, Oil & Gas
Government:
Local Government, Defence
HS15ST DNH Shockproof Non-Corrosive, Weatherproof, Horn Loudspeaker for Navy vessels and facility's world-wide.
This specially designed DNH HS-15ST watt aluminium horn loudspeakers will endure external sound shocks of up to 175 dB the Australian Navy use this model and many others that depend heavily on reliability under extreme conditions. The IP-rating of 55, high quality stainless steel bracket also puts this loudspeaker in a class of its one.
The DNH loudspeakers are typically used in industrial and commercial locations providing extremely high intelligibility and efficiency in the speech frequency range making them excellent for use in noisy and highly reverberant areas.
Good quality paging using the DNH range of horn loudspeakers can impact directly on improving safety of others and add productivity in the work place. An effective PA paging system creates a secure work environment where individuals can perform daily work tasks.
Related Products