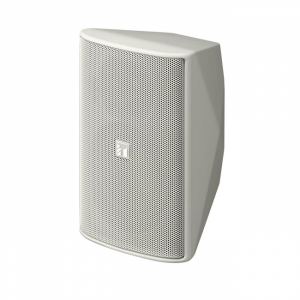 TOA F1000WT Series Cabinet Speakers
Compact high quality box Two-way bass reflex enclosure suitable for ceiling or wall mounting, 30w, 50w, and 60w 100 volt line or 8 ohms

Code:
F1000WT
Brand:
TOA
Government:
Schools, Local Government, Universities, Community Centres, TAFE
The F-1000, F-1300 and F-2000 Series speaker systems are designed to provide high quality sound and reliable performance for restaurants, retail and audio/visual applications.
Features include two-way bass-reflex design, high impact polystyrene enclosure with a 4", 5" or 8" low frequency driver and dome tweeter. For challenging acoustic environments, users can easily reduce the high frequency dispersion of F-2000 models by simply installing an included horn adapter. Model options include 70.7V transformer or low impedance, black or white enclosures and indoor or weather-resistant versions. All models include a versatile wall/ceiling-mount bracket for easy installation.
* Note: For outdoor installation, it is recommended that they are installed under roofs, eaves, or in other locations not directly exposed to rain or snow.
FEATURES
Compact box speakers for music and voice paging distribution
Excellent sound quality
Twelve new models:
Black or white
Indoor
Outdoor (IPX4)
Low impedance (8 ohm) or 70/100V versions
Octagonal horn design for smooth coverage
Adjustable high frequency dispersion (F-2000 models)
Extruded cabinet design improves low frequency performance
Individual protection circuit on each component
Screwdriver-adjustable power taps (70/100V models)
Paintable grille and enclosure
Wall/ceiling-mount bracket included
Optional board, cluster and pole-mount brackets
OmniMount-compatible (F-2000 models only, Series 20.5CA/WA)