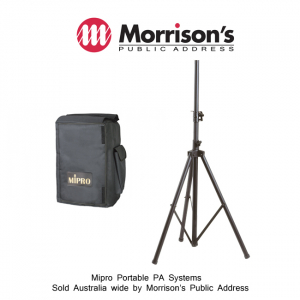 Carry Bag + Speaker Stand
Mipro MS-70 Speaker Stand Recommended Height, SC-75 padded Carry Bag with side pockets are great for storage for MA708 PA system
Code:
SC-75 MS-70 Pack
Brand:
Mipro
Recommended:
Promotions, Presentaions, Meetings, Celebrants, Funerals, Houses of Worship, Clubs
Government:
TAFE, Community Centres, Universities, Local Government, Schools
Mipro MS-70 Speaker Stand Recommended Height
It is important to elevate your portable speaker off the floor to a higher position for improved wireless microphone reception and to maximize coverage experience. Place the MA708 speaker ideally at your audience's ear level or alternatively above head level.
Mipro SC-75 Carry Bag
The custom made Mipro MA708 speaker Carry Bag affords additional protection, keeping the speaker looking good for longer. The padded Carry Bag side pockets are ideal for storage. For outdoor functions the SC-75 Carry Bag can be left on whilst still allowing full access to the audio control panel at the back of the speaker.