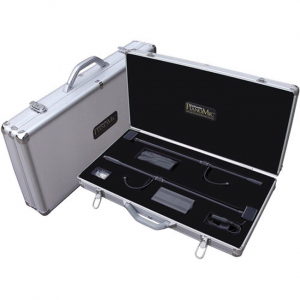 Earthworks Touring Piano Mic System.
The Earthworks PM40T Touring PianoMic System from Earthworks takes the PM40 PianoMic system and makes it an easily installed mobile microphone system, ideal for touring. The PM40T uses an unconventional approach to capturing piano with superior results while keeping the microphones hidden from view. Two high-quality, random-incidence omnidirectional microphones are mounted onto a telescoping bar for close-miking within the piano itself.
The microphone capsules may be mounted to either face, or point away from the dampers. The capsules themselves feature flex-arm goosenecks that enable further microphone adjustments to be made in order to achieve desired audio results. The PianoMic connects to the 5-pin input of the PMVM1 electronics-box, which in turn features 3-pin XLR outputs for connecting to a stereo preamplifier, two mixer channel inputs, etc.
While many experienced engineers may find the close-miking technique unconventional, special technology ensures optimum results and placement inside the piano means less leakage from nearby instruments, speaker cabinets and other noise sources.
Internally Mounted Microphones
The Earthworks PM40T PianoMic system mounts within the piano bed itself for maximum results and minimal visibility.
Random Incidence Omnidirectional Microphones
Superior quality, random-incidence omnidirectional capsule compensate for transients and other issues involved with close-miking pianos. The result is low-noise and an excellent quality suitable for crucial recording and professional sound reinforcement applications.
Flexible Adjustments
The telescoping bar adjusts to fit any size piano and the capsules are set onto flex-arm gooseneck for perfect microphone placement.
Electronic Output Stage Box
A separate output stage box features a 5-pin XLR input and two 3-pin XLR outputs. A leather case with a strap allows the box to be mounted onto a piano leg.