Portable LA90 Counter loop System
PLA 90 Counter Loop accommodates individuals with hearing difficulties at a bank teller window, information desk, store counter or anywhere customers/visitors need to hear what is being said.
Code:
LA90
Brand:
HUMANTECHNIK
Recommended:
Houses of Worship
Government:
Universities, Local Government
LA-90 Counter Top Convenience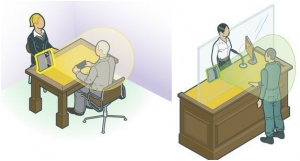 The LA-90 is a compact and portable loop system that empowers people with hearing disabilities to clearly hear what's happening around them. LA-90 transmits verbal communication directly to hearing aids as well as inductive loop receivers. It has been designed for spot applications in smaller proximities such as service desks and counters.
Virtually installation free, simply plug LA-90 into a power source and its ready to use. In addition, LA-90 (with an in-built charging system), will run for up to four hours using its own internal power. LA-90 captures sound via its integrated microphone and can also operate in conjunction with a second microphone by utilizing the included additional mic input.
The acoustic information is automatically transformed into inductive signals then transmitted to the included inductive loop. Hearing aids equipped with a T-Coil are able to pick up these induction signals. A headphone output has also been included for added convenience and monitoring. The discreet silver\grey chassis has been designed to be aesthetically pleasing and three color inserts are included to ensure LA-90 blends into any environment.
LA-90 is perfect for service counters, reception desks, and any localized environment where assistive listening is required.
To comply with AS-1428.5 an ALS (assistive listening system), like the LA-90, must be provided at any place where a service provider deals with a client or customer.
This includes all classes of counters. In cases of multiple counters in one location with user choice of counter, there must be a minimum of 20% of counter coverage.
Related Products