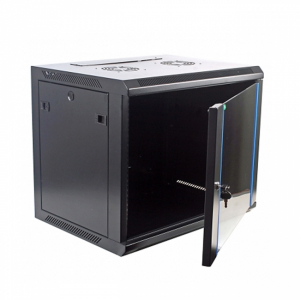 PA wall Mount Rack Enclosure
Wall mounted rack enclosure boxed and ready for immediate use. Made from 2.0mm steel this rack cabinet is a reliable high quality solution for rack mount hardware. The strong welded frame construction ensures this rack can hold up to 60kg of hardware.
Code:
WM6406BK
WM6406BK 6U depth 450mm
WM6409BK 9U depth 450mm
WM6412BK 12U depth 450mm
WM6418BK 18U depth 450mm
Fixed back section with welded frame construction.
Changeable depth front and rear rack rails.
Detachable side panels with spring latch.
Rolled steel top and bottom with ventilation.
Fan ready perforated top.
Toughened glass front door.
Welded frame capable of holding 60kg.
Suitable for both wall mounting and standing installation.
Quick installation side panels.
Cable access at top, bottom and rear of rack.

This rack mount enclosure is also available in a depth of 600mm, contact us for delivery information.