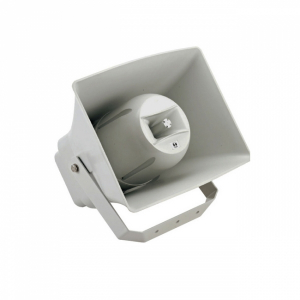 CS660BS TOA Music horn speaker
This TOA music horn speaker is composed of a high-efficiency weather-resistant horn and a high quality sound cone speaker, providing outstanding speech and great back ground music clarity. The TOA CS660BS music horn features ABS resin enclosure and stainless steel bracket for all-weather durability. The speaker is certified to the European Standard EN 54-24: 2008 and International Standard ISO 7240-24: 2010, and is compliant with the British Standard BS 5839-8: 2008.
This 2-way system with its highly intelligible sound is suited for voice alarm, public address and back ground music (BGM).
Certified to EN 54-24, ISO 7240-24 and compliant with BS 5839-8.
All weather durability, water and dust protection to IP 66.
Impedance change available by tapping changing located inside the terminal cover.
Related Products