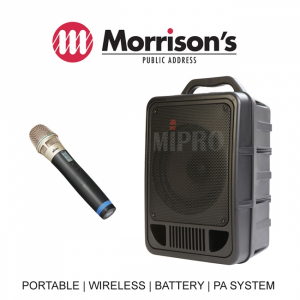 Deleted Model (see MA707PAMB5)
The Mipro MA705 PAMB5 Pack-1 comes with ACT32H5 Hand-Held Wireless Microphone and PA Rechargeable Battery's. This PA systems lets you communicate perfectly anywhere with either voice or music.
General:
Promotions, Presentaions, Meetings, Celebrants, Funerals, Clubs
Brand:
Mipro
Government:
TAFE, Community Centres, Universities, Schools
Mipro PA systems MA705 crystal clear audio great solution >>>more
The Mipro MA 705 system is the perfect solution to meet the needs in school classrooms, shopping centre demonstrations, and for others such as marriage celebrants.
Mipro microphone options allow up 2 Mipro ACT32H hand held wireless and for totally hands free you can have the Mipro ACT32T wireless belt pack with MU55HNS headset microphone. The other great benefit is the flexibility, each of the Mipro systems allows you to start with just the basic portable system with one hand held cord microphone and order the wireless microphone and CD player speaker stands extension speaker in the future.
This 70 watt portable PA sound system weighs only 10kg and delivers outstanding crystal clear audio for music and speech. This lightweight, portable wireless sound system has two power modes options, 240 volt power and built in rechargeable battery.
Call 0407 442822 or email to ensure you receive the "right equipment that meets the needs, 1st time, EVERY time."
Related Products