DNH LP-210(T) flame resistant plastic loudspeaker
Fri, 25 Feb 2022
DNH Corridor Loudspeakers LP-210(T)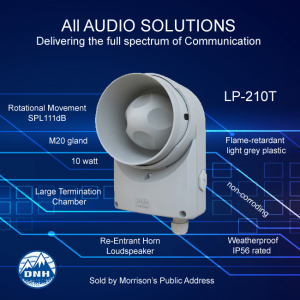 The DNH LP-210(T) is a 10-watt re-entrant light grey horn loudspeaker, that is non-corroding, UV stable and flame-retardant. With a maximum sound pressure level of 111dB, this loudspeaker is robust, lightweight, and weatherproof to IP56 rating.
It comes with two M20 glands entries and a large termination chamber. A 4-step transformer fitted to the line voltage models allowing the adjustment of sound output by altering the power consumption. The DNH LP-210(T) horn loudspeaker has rotational movement to allow for directivity of sound and mounts directly onto a wall or bulkhead.
Loudspeaker applications include Mining, Maritime, Vessels, Defence, Corridors, Walkways, etc or any Industrial application.
Available in the following models:
LP-210 low impedance (8 ohm or 20 ohm)
LP-210T line voltage transformer (70/100V)