DNH EEx Loudspeakers for Hazardous
explosive gases, vapours & dust areas.
Used extensively in the Oil and Gas Industry
World-wide sales for DNH Loudspeakers please contact Allan on +61 407442822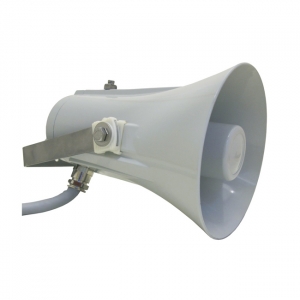 Morrison's PA has the exclusive distribution rights for the DNH IECEx certified loudspeaker in Western Australia and are the largest stockist in Australia. For oversees customers we have the capability to supply direct from the factory to your door, at extremely competitive pricing. For all sales, local, Australia wide or international, contact Allan.
DNH are based in Norway and have been manufacturing loudspeakers for 74 years. During this time they have built a reputation throughout the world as a manufacturer of high-quality loudspeakers for industrial and commercial solutions. Since the company was formed in 1946, it has grown to be a reliable supplier to the most demanding of locations and situations, anywhere in the world.
Strong Niche Products
DNH has a renowned range of different flameproof loudspeakers certified according to Cenelec ATEX IECEx standards. In addition to the flameproof loudspeakers, DNH has developed several special loudspeakers for different purposes or conditions. For example, the HS-15ST 15W aluminium horn and the H62ST 25 watt loudspeaker is specially designed to withstand external sound shocks of up to 175 dB, this model is extremely popular for Military, Maritime, Mining, Off Shore operations and the like.
DNH also has vandal-proof loudspeakers, plus a variety of loudspeakers constructed to withstand extreme weather conditions.
The NORSOK standard Ex equipment must be inspected every year, other standards, every second year. This is not required with the DNH Ex Maintenance Free (MF) loudspeaker range (see MT models below). The saving on maintenance costs alone makes them a great candidate, for either a new system or replacement option.
The MF loudspeaker is supplied with encapsulated cable (Radox or BFOU). These loudspeakers are filled with certified glue in the transformer and terminal chamber; the loudspeakers cannot be opened for inspection, removing the need and associated cost of an engineer to undertake the normal checking requirements.
Maintenance Free Models (Cable length to be advised by customer)
DSP-15EEXMNTMF 25 watt DNH Ex "Time and money saver" 
Maintenance Free Certified Loudspeaker.
BA-56EExeNTMF, 100V, IECEx BFOU cable
CAPEEX-6T, 100 volt, IECEx 6W anodized BFOU cable
DSP-25EExmNTMF IIB, 100V, IECEx 25W BFOU cable, Steel bracket
DSP-15EExmNTMF IIB, 100V, IECEx 25W BFOU cable, Steel bracket
DSP-15EExmNTMF IIB, 100V, IECEx 15W, BFOU cable, Steel bracket
HS-15EExmNMFT, IIB, 100V, IECEx 15W BFOU cable, Steel bracket
HS-15EExmNMFT, IIB, 100V, IECEx Radox Tenius cable, Steel bracket
At Morrison's PA one of the largest selling loudspeakers is the (DSP-15EExmNT) and (DSP-15EExMNTMF) and are available in either 25W, 15W, 6W, high or low impedance, plastic or stainless-steel brackets and on the MF model you nominate the cable Radox or BFOU and the length.
The MF loudspeaker is produced with 265 different article numbers, resulting in numerous versions from which to choose, they also produces the transformers in-house and have approximately 2000 options to choose from. If DNH don't have the preferred transformer according to your needs, DNH will look into developing to your requirements.