Members Login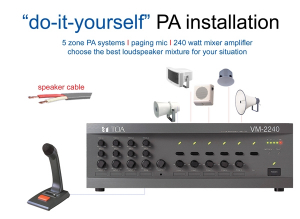 TOA 5 zone PA installation
TOA VM-2240, 240 watt PA 100 volt line mixer amplifier for installation
Advanced Details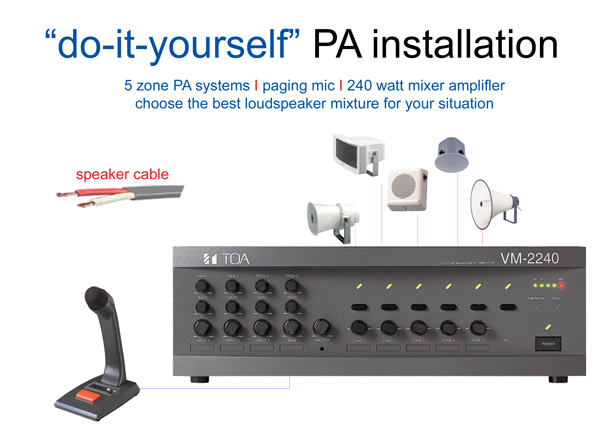 The TOA VM-2240 is a multifunctional PA amplifier and can be mounted in an any standard equipment rack (3-unit size). The VM-2240 comes with 4 audio inputs including the background music input, the lodspeaker output section has an internal attenuator and 5-speaker Zone selector.
You have the option to use the standard desk-top paging microphone or zone paging microphone. You also have the option to select any combination regarding speakers i.e. ceiling indoor, music horn, outdoor horn or wall box speaker. You have bass and treble on each of the input channel.
One of the great feature on the VM-2240 amplifier is the ability to alter the volume into each zone by the front control panel. Basically you can turn off or set the audio level to the preferred level to each zone.
This is a strait forward 100 volt pa amplifier system, to put this system together alll you need to do is connect the desk-top directly into the mic input and rune individual speaker cable from zone 1 to 5 i.e. reception area (zone 1) outside car park (zone 2) pool area (zone 3) function hall (zone 4) undercover area (zone 5). You can also connect your CD player for BGM to the amplifier. If you prefer to page into each zone individually you will need the zone paging microphone.
Note: the total wattage load must not surpass the power of the amplifier the VM-2240 is a 240 watt 100 volt line amplifier.

Related Products