Members Login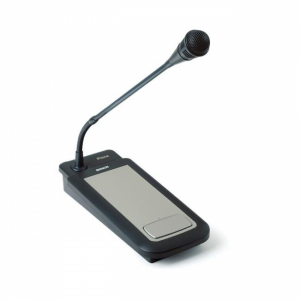 LBB1950/10 Bosch Paging Microphone
LBB1950/10 Plena tabletop microphone is a stylish, high-quality tabletop unidirectional condenser microphone, mainly intended for making calls in a public address system.
Advanced Details
Its heavy metal base and rubber feet ensure stability on any flat surface.
The special design also allows the unit to be neatly flush-mounted in desktops.
Features
Stylish tabletop unidirectional condenser microphone on a flexible stem
Phantom powered by amplifier
Momentary or toggle PTT-key for calls with priority contact
Green LED, indicating microphone active
Stable metal base design with fixed 2 m cable and lockable DIN connector
Includes DIN to XLR adapter