Members Login
Portable PA Systems
Wed, 12 Apr 2017
We have 40 years' experience with portable pa systems

Information for West Australian Schools that are interested in purchasing Portable PA systems. Did you know that you can purchase direct from Morrisons Public Address… it's not compulsory that you go through the Government Procurement CUA Audio Visual Solutions contractors.

From the Department of Finance…
The Audio Visual contract specifically excludes the following services and products:
Public Address Systems (Portable PA systems) and items that relate to these systems televisions, digital still cameras, digital video cameras, DVD/CD/Blu-ray Players, lighting equipment, cloud-based videoconferencing, bridging services, and audio conferencing.
So basically as a WA School you can purchase direct from one of the leading suppliers of
Portable PA system in Australia.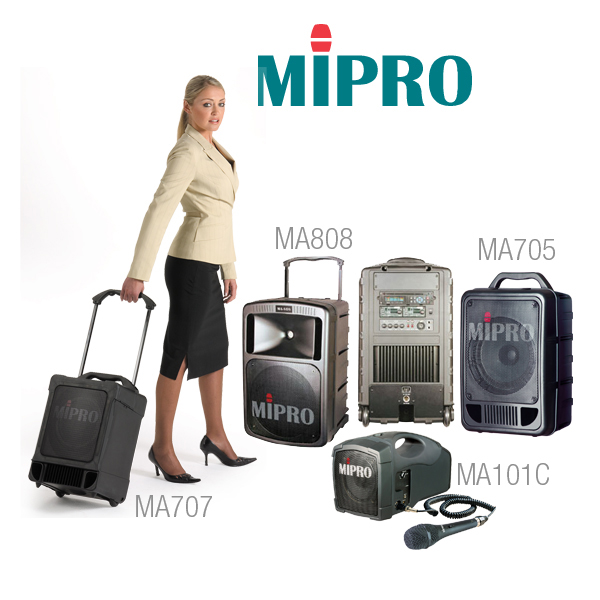 If for some reason you have difficulty in finding or working out the portable PA system you're looking for please just email your requirements or you can call for further assistance… it's all free and absolutely no pressure.

The sole purpose of having a portable PA system is to achieve a specific number of inside and outside tasks for the situation at hand, so to purchase something that won't achieve this, just defeats the purpose. If you know the product you're after and the overall capabilities of it, then that's a great piece of knowledge that you have. However, this is not the case for everyone. We have over 39 years of knowledge in the portable PA audio industry and would love to share this with you for free, all you need to do is contact our office.

Our largest seller: without question is the Mipro Portable Products They are our all-time largest moving items and that's why they are the receivers of numerous awards. Mipro PA systems are products that set quality, innovation and performance standards to a new level for live portable sound for schools, wedding celebrants and community clubs... the list is endless. Mipro portable wireless PA systems are recognized the world over as a specialist in reliable and high performance portable wireless systems designed and tested for demanding professional indoor or outdoor situations.

Every MIPRO product is designed to meet demanding standards for the customer's satisfaction. All MIPRO wireless systems are built in Taiwan in the state-of-the-art manufacturing facilities using the latest procedures, from the initial CAD design to forward-thinking electronic surface circuit board assembly. Every Mipro wireless unit is regulated and tested as individual components and as a complete wireless system to ensure reliable field performance for years to come. At Morrison's PA we take great pride in being able to offer you the very best portable products at an affordable competitive price as well as great before and after sales service.

Mipro have a large variety of portable PA systems to select from; each PA system can be put together for multiple situations and budgeting. You can start with the MA101A, MA202 and the MA303. Basically they would come under Personal PA's. This is something that you would use in classrooms, shop displays, small community groups, aged care centres and in quiet environments. Then you have all the other options starting with the MA705, MA505, and MA707. From this point you can go up to the standard system we put into schools which is the MA708 which is now standard with Bluetooth and the largest portable battery operated PA on the market is the MA808.

Each portable Mipro PA system has a number of options that you can add to so as to better suit your situation. The microphone options are very good. You can have a hand held cord MM-107 microphone or the ACT30H hand held wireless microphone. You can also have the ACT30T belt pack with Lapel microphone or the Mipro MU55HNS head mic. The head mic is great for any hands free situations giving you a constant audio level.

Let's look at the facts about sound and the problems you may face on a day to day basis.
Do you recall watching the spy movie as the double agent turns the shower on to mask the sound to avoid others hearing what was said…. it's true and it's not just the shower running that does this. Wind, traffic, people chatting, dinner cutlery, air conditioning and fans all mask the sound affect and the ability to hear the sound, mainly the spoken word. On top of all this we have the poor acoustics rooms coupled with often inexperienced people using the PA system. It's a wonder we hear anything at all and "That's way it's important to choose the right portable PA system" If people are paying you for a service they expect that you will have most situations covered. In the majority of situations so we need to prepare ourselves for the worst conditions taking into consideration all problems that may arrive.

So based solely on this you need to either have the expertise to choose the PA system that suits your needs or you can ask someone in the industry that has this knowledge and is willing to share it with you with no conditions attached.



The benefits of having a speaker stand…
One key element in any sound system is elevation and positioning. With all the Mipro portable PA systems you have the option to purchase a PA speaker stand and we recommend that you take advantage of this option. The ATC303 speaker stand will give the portable speaker greater coverage of sound throughout the listening area, the Mipro ATC303 PA speaker stand also allows you to place and point the speaker in the correct direction. One of the other accessories that we recommend is the Mipro dust cover. It's a great accessory to keep the Mipro portable PA unit looking good for years and the added side pockets gives you additional storage for wireless microphone cable or batteries.

Changing the Mipro portable wireless ACT frequency channels

What is ACT? On each of the Mipro wireless portable PA systems you have the MRM706 receiver module. The ACT stands for "Automatic Channel Targeting" which is a world first sync technology developed and patented from MIPRO back in 2000. Mipro Innovative "ACT" allows you to automatically synchronize the frequency selected for your receiver to your handheld and bodypack transmitters at a simple touch of a button. Mipro ACT technology ensures fast and easy channel set-up of multiple wireless microphone systems.

MIPRO was the first manufacturer in the industry to utilize this technology to synchronize (sync) the receiver and transmitter frequency automatically with a touch of a button. It is now an industry-standard feature emulated by other wireless microphone brands like Shure, Sennheiser, AKG...etc.

Mipro ACT Benefits: No manual frequency adjusting needed, unlike traditional transmitters. The ACT receiver module is a simple, fast and precise frequency set-up without mechanical errors. Once the frequency has been set, the data is stored in memory, meaning that the frequency is set until it is changed by performing the "ACT" function again, even after powering off.

ACT Set-Up Simply press the ACT (sync) button on the receiver to activate the ACT function. Align transmitter IR window (red circle-shaped) with ACT IR window on the receiver and ensure they are facing each other within 30 cm (12-inch) range and within 5-7 seconds period. The receiver and transmitter frequencies are synchronized automatically.



Handy Tips: Setting up and getting the best out of your Mipro Portable PA Systems
Outdoor wind noise can be a problem so use the wind-sock. By turning the bass down it should help to cut out the low bass rumbling created by the wind noise.

Work on your microphone technique as the closer your mouth is to the microphone the better it will sound and the less feedback problem you will have. Test the microphone levels before your guests arrive. Walk around the seating area in the venue listening carefully and getting a feel of what is being said during the sound check. Make sure you elevate and place the Mipro portable speaker at the optimum position to maximize coverage and minimise feedback. Note: Speech should always appear that it is coming from the point of origin.

Batteries and their problems: Always have good quality batteries at hand for the ACT30H and ACT30T wireless microphones. Batteries can be your best friend or worst enemy so don't be complacent with them considering a $6.00 battery could turn your function into a nightmare.

Charge your Mipro portable system well before your function, Test the internal batteries every now and then by fully charging the system and then run a music program, taking note of the time you started and finished. A new system should last approximately 6 to 8 hours on a full charge. However, this might differ depending upon the program you are running. Note: if you're running a loud bass music and singing then you would expect to get less battery life than something that is a light back ground music and short speeches.

Always recharge the portable PA system after each use and never leave the batteries discharged for any extended period of time.

Avoid placing the microphone directly in front of the loudspeaker and if you can place yourself off to the side and slightly back from the speaker. This will give you less chance of feedback and more audio level before feedback. It's not a great idea to put the PA speaker too far from the person speaking.