Members Login
Explosion Proof DNH Ex loudspeakers
that are extensively used in the petroleum
hazardous areas industry
When it comes to choosing the right brand, our recommendations
are considered as 'the final word' in the loudspeaker industry!
Mining and Industrial Sectors

Morrison's PA is a leading supplier of professional commercial audio equipment for industrial control and DNH Ex Loudspeaker communication system. We understand that mining and industrial settings are high risk Ex zones where clear and reliable PA communication is imperative. We have spent years researching for the very best quality, safe and reliable sound equipment for mining, oil and gas industrial scenarios. Our robust DNH PA sound equipment can be used in all such industrial settings that call for rugged and reliable communications systems. We cater to the mining industry, onshore and offshore oil and natural gas complexes, power generation plants, chemical plants, tankers, fertilizing plants, cargo carriers, and supply boats.

Our sound equipment DNH Ex loudspeakers and PA systems can operate in the harshest environments and are not just long lasting but also flexible to allow a variety of expansion settings and applications. In an industrial setting safety means more than just making sure that the buildings are up to code, in an environment that changes dramatically from minute to minute often involving hazardous situations everyone present must be aware of what is happening at any given moment.

The most practical way of doing this is by verbal announcements through an efficient and reliable public address system that covers every part of the working area. The system should be the first and last to function under any circumstances. At Morrisons we have the full range of public address equipment and decades of knowledge to do just that, we will make it simple for you to purchase commercial audio equipment that achieve paging announcements in any situation or environment.

Loudspeaker communication for multiple conditions
Safety using commercial quality paging equipment
Security by means of paging announcements quickly
Keeping the situation at hand under control with loudspeaker announcements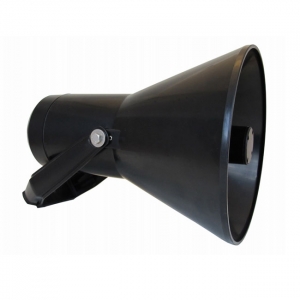 If the industry you're working in needs hazardous ex paging announcements capability's we're hoping that the following products and information will help. At Morrison's PA we handle the very best variety of certified explosion-proof loudspeakers for inside or outside paging such as the
DSP25EExmNT
,
DSP15EExmNT
(IIB+H2) and the
HS8EExmNT horn's
,
BA56EExeNT
ceiling,
CAREEX36T
cabinet bi-directional speakers
CR6T CLEAN ROOM
AQUA-30 UNDERWATER speakers
then you have come to the right place. Morrisons Public Address have been working with the DNH Norwegian range of products for over a decade and keep good stock on the most popular ATEX Ex IEC models.
The
DNH Ex
Explosion Proof loudspeakers series have been used in almost every hostile environment throughout the world, land or sea for emergency public address paging situations. All of the
DNH Ex ATEX certified
loudspeakers are ideal for use in potentially explosive protected environments i.e. gases, mists and vapours as well as high ambient SPL noise areas. Each of the horn loudspeakers has Marine grade stainless steel "U" brackets with M20 gland entries for speaker cable. If you're using the 100 volt line you can adjust the wattage on the primary side of the transformer. The
DSP25EExmNT
will give you 25W, 12.5W, 6W, 4W, 2W, 1W TAPPINGS. The DSP15EExmNT can be order as a 25 watt or the 15 watt model, this will give you 25W, 15W, 6.5W, 5W, 2.5W and 1.5W TAPPINGS! And with all the DNH loudspeakers you do have the option to have 8 ohms impedance.
Just think of the ingenuity and vison that the DNH Norwegian engineers had 36 years ago to put together the
DSP25EExmNT
this was the first anti-static polyester loudspeaker to be certified for hazardous areas by DNH! Who would have thought that way back in the 1980's that this offshore and onshore
Ex ATEX certified
loudspeaker would be still one of our all-time biggest sellers in the hostile environment industry. Engineered and manufactured in-house in Norway from carbon-loaded black anti-static polyamide, this UV stable enclosure is non-corroding and lighter than similar materials such as glass fibre reinforced polyester (GRP).
This
DSP-25EExmN(T) horn loudspeaker
has a maximum power consumption of 25 watts, which will produce a peak sound pressure level of SPL 1W/1m 108dB, SPL rated power 120dB for the gas group NEMKO E/x d e mb IIB+H2?IIC T5 Gb/10ATEX1053 Ex II2G version. A gas group IIC version is also available if needed or required. The loudspeaker is available with a multi-tapping line voltage transformer (typically 100V) or in a low impedance typically 8 ohm version. You can also order the
DSP-15EExmN(T)
with plastic "U" bracket or in most situations the preferred would be the Stainless steel "U" bracket. The
DSP-15EExmN(T)
loudspeaker has a third bracket S/S Swivel "U" bracket option (
contact us for further information
) which will attach under the speakers. This loudspeaker and S/S Swivel "U" bracket needs to be factory modified with the appropriate studs, Note: the standard
DSP15EExmN(T)
loudspeakers do not have the studs fitted, you can order the parts from Morrison's PA and fit them yourself however by doing this it will the loudspeaker VOID WARRANTY.
Horn Loudspeaker termination is within an Ex 'e' termination chamber, via M20 gland entries, which can accept any certified Ex 'e 'or Ex 'd' cable glands according to your local requirements. The DNH Ex loudspeaker are certified to the latest EN 60079 standards and is also IECEX approved, as well holding CNEX (Chinese) and GOST (Russian) certificates. The
DNH DSP-25EExmNT loudspeaker
has a ID stainless steel plate attached to the side identifying the certification. The smallest ATEX horn loudspeaker in the DNH range is the
HS-8EExmNT
this is suitable for both indoor and outdoor applications. The DNH bestselling Ex aluminium 15 watt horn loudspeakers are the
HS15EExmNT
the Aluminium alloy colour is RAL7035. This horn speaker comes with two M20 blanking plug as standard.
The areas that you would use the DNH EEx certified loudspeaker products in that would have potentially explosive atmospheres are separated into zones. The DNH
loudspeakers Ex products
are divided into groups and categories. Each of the loudspeakers requires the appropriate adhesive labelling or stainless steel plate indicating in which zone the explosion protected equipment can be used. Equipment is divided into group I and group II. Group I classification would be used for underground mines and group II would deal with all additional applications.
Areas that you are planning to use
Ex certified
loudspeakers in that have potentially explosive atmospheres are divided into six zones according to how frequent and the period of time the possibility explosive atmosphere would exist. There is a distinction between combustible gases, mists, vapors and explosive dust. The gases, mists and vapours for instance would need to use loudspeaker certified for zones 0, 1 and 2. Loudspeaker equipment in zone 0 must be constructed in a way that if a type of protection fails or even if two faults occur the loudspeaker would have sufficient explosion protection to be fail-safe.
It's great to know that the
DNH EEx certified loudspeaker
products are here to offer you all the appropriate products that will help ensure the safety of staff, the public and your assets. Intrinsically safe electric circuit (II 2 (1) G [Ex ia] IIC), needs its own approval. Zones 20, 21 and 22 are for dust atmospheres in which the requirements for the chosen equipment increase from zone 22 to 20. Equipment in zone 20 and 21 need special approval.
Explosion protected group equipment for gases, mists and vapors are divided into three explosion groups (IIA-IIB-IIC) according to the type of protection being used. The explosion group is a means to measure the ignitability of gases potentially explosive atmospheres. Explosion proof temperature classes equipment that needs to be installed for Ex areas, will be divided into 6 temperature classes T1 <450°C, T2 <300°C, T3 <200°C, T4 <135°C, T5 <100°C and T6 <85°C. The temperature class is the operating temperature range of the equipment, but the maximum permissible surface temperature of the equipment, in relation to + 40°C ambient temperature on any surface area, which may not be exceeded at any time. The maximum surface temperature must remain below the ignition temperature of the surrounding medium at all times. The equipment design requirements increase from T1 <450°C, T2 <300°C, T3 <200°C, T4 <135°C, T5 <100°C and T6 <85°C
Our Clients
We have the most versatile clientele in the business. Our customer service and superior quality audio equipmenthave been utilized for years by the oil, gas & mining sites, government organisations and military agencies.